Wednesday, January 31, 2018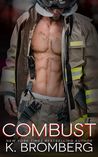 Combust
by
K. Bromberg
My rating:
5 of 5 stars
-Jenny, 4.5 stars
K. Bromberg, OMG! I wish I could crawl into that genius head of yours. Combust was everything a reader looks for. I was literally hugging my kindle because I loved it so much. This is the first book I've read with a HOT! SEXY! FIREFIGHTER! Or at least I think it is. Whatever, Grady Malone is one firefighter I will never forget.
Dylan McCoy is a songwriter who just broke up with her current douche bag of a boyfriend because he cheated on her. Did I mention he is a class act asshole! What's worse is she is under contract to finish writing songs for his album. She does what any girl would do with a brother, she calls him up to come and kick his ass! Just kidding, no she decided she needed to keep her commitment and finish the songs. She does call her brother though, but it's only because she needs a place to stay. Well, this is where the story begins and gets all hot and sweaty. The one and only Grady Malone is introduced. Okay, I'm going to stop because my fingers are literally about to give you the whole story in this review.
I did think this story was all that and a bag of chips... I give it 4.5 STARS.
Why you ask? I mean I just said it was a perfect story, right? Well, my only complaint was there were chapters that I did skim through because of a little too much detail, but other than that I loved everything about this story. The supporting characters. I loved Grady and Dylan and all the flirting between them. I do highly recommend this story.
View all my reviews